V-Band
INFO
Leafy Twig Textured
Diamond Band
Share:
Availability
Ready to Ship
Overview
Ready to ship in a size 4.75, rose gold. Allow 1-2 weeks for shipping.
Allow 3-4 weeks for resizing before shipping
A leaf-inspired chevron band is dotted by a trail of pavé set conflict-free lab-grown diamonds. Beautiful paired with a variety of solitaire engagement rings, or wear it alongside your favorite rings to create your own unique, stackable collection.
Details
Diamonds:
Clarity & Color: VS/FG
Twelve diamonds: 1mm - 1.5mm
Pavé set across the top of the band
Band:
Recycled 14k rose gold
Band width: ~2mm wide (not including "V")
Total span of V-shape: ~5.6mm across
Twig texture on sides and back
Designed to stack flush against our three-stone and solitaire engagement rings. Can stack with our halo rings with a third "spacer" band in between (engagement ring and spacer band sold separately)
Turnaround & FAQs
Turnaround Time
See Overview above for turnaround
Policies
Please read the following pages in full before ordering: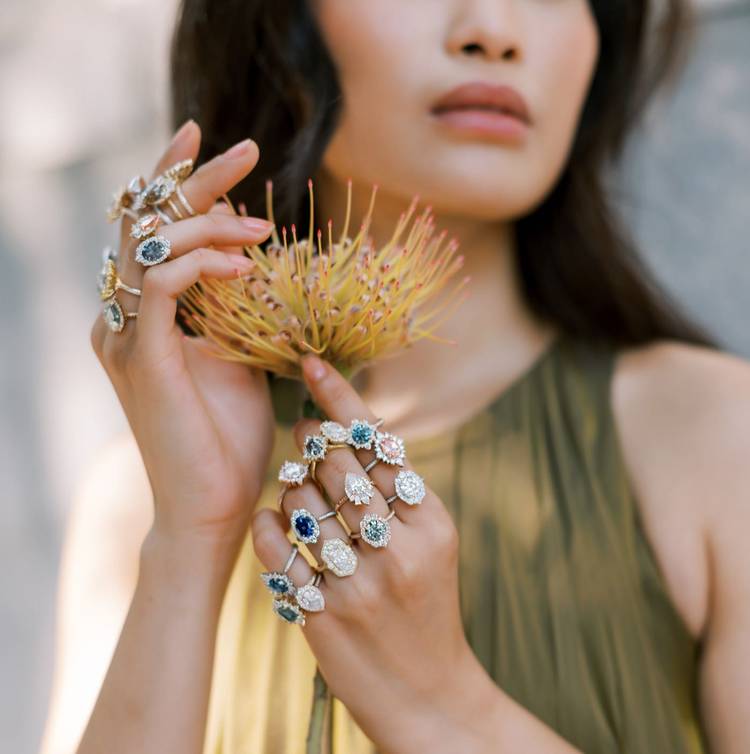 Lab-grown diamonds have the exact chemical, optical, and physical properties as mined diamonds, which means they look visually identical. The only difference is that lab-created diamonds are grown in laboratories that recreate the same environment that causes diamonds to form in the earth. The other benefit is that lab-grown diamonds have a smaller carbon footprint and less humanitarian impact than mined diamonds. These lab-grown accent diamonds are custom cut for Kristin down to the hundredth of a millimeter into the perfectly calibrated sizes needed to achieve each unique design. Learn more about lab-grown diamonds here.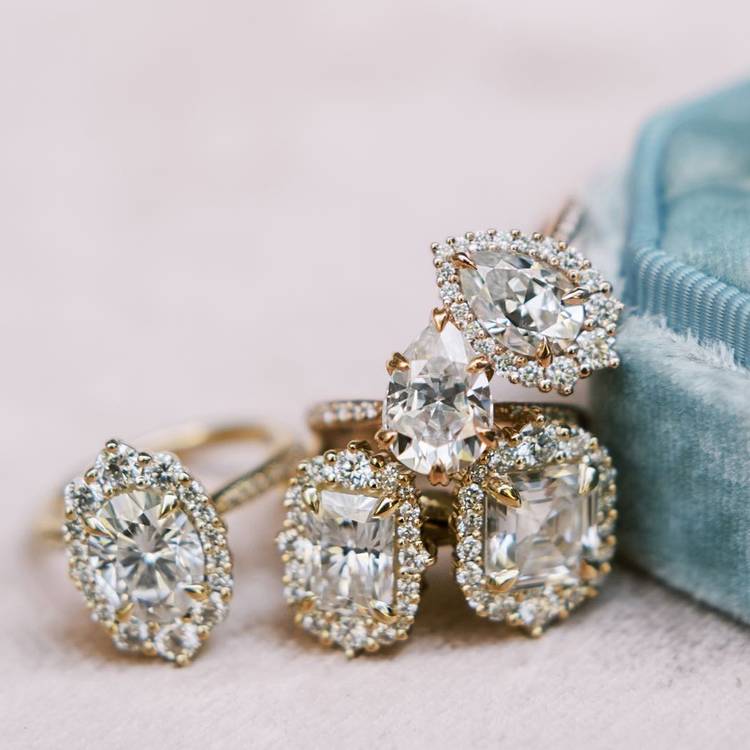 All of our rings are crafted entirely from recycled precious metals. Gold mining is an extremely toxic process, producing high carbon emissions, toxic waste, and disruption of ecosystems. To combat this environmental degradation, we instead choose to use recycled golds, silver, and platinum. Recycled metals are reclaimed from old jewelry or industrial parts and then professionally refined to the same high quality as newly-mined metals. Learn More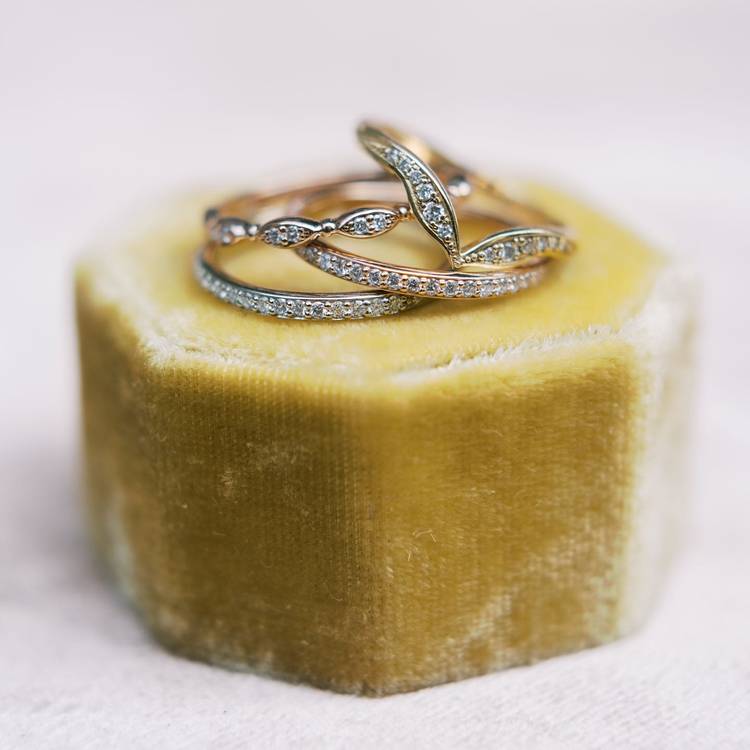 Our rings are available with your choice of lab-grown or Canadian mined accent diamonds. Both diamonds grade the same in clarity and color, and therefore are visually identical. The only difference is their origin, as one option is lab-created, and the other is earth-mined from the Canadian artic. Learn more about lab-grown diamonds here. Learn more about Canadian mined diamonds here.
The most accurate way to find out your finger size is to stop into a local store in your area to be professionally sized using a 2mm wide sizing band on your left hand ring finger. Be sure to go on a day when your finger feels most average, and isn't too hot or too cold. We don't recommend other at-home methods such as using string or paper, or even sizers bought online, as those methods can be inaccurate. Learn more about sizing here.
Trying to surprise your partner and can't ask them to try on sizing bands? This ring is resizable by about 1 full size in either direction. For example, a size 6 ring can be resized up as far as 7, or down as low as 5 if needed. However, it's important to at least get close enough so you're within the safe resizing range, otherwise it will require a complete remaking of the ring. Please read the Find Your Ring Size page for very important tips and considerations to make when trying to determine someone else's size.
More to Fall in
Love With
・MARGO・Canadian or Lab-Grown Diamonds
・ELEANOR・Canadian or Lab-Grown Diamonds
・ASPEN・Canadian or Lab-Grown Diamonds