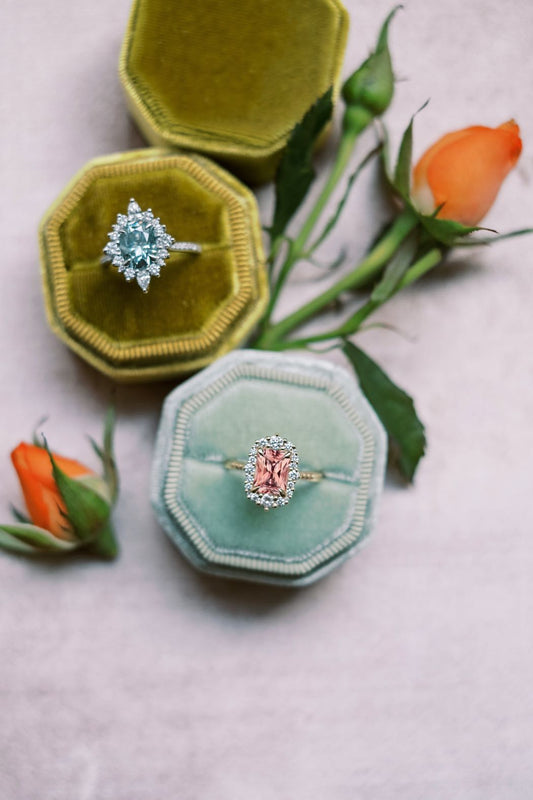 Redefining
the
Standard
We believe in holding onto the most meaningful traditions, but rejecting the jewelry industry's dark history of harmful practices that have polluted our earth's water and skies, and created humanitarian crises across the globe. We're passionate about taking an environmentally-friendly, ethical approach to crafting the perfect symbol of your love story. By specializing in alternative lab-grown gems and diamonds set into recycled precious metals, we create meaningful heirlooms that resonate with the values of our generation.
Handcrafted in the U.S.A 
All of our rings are meticulously handcrafted in the United States by the most highly-skilled goldsmiths. Classically trained in metalsmithing, Kristin values true artisanship when it comes to bringing her designs to life. We don't cut corners on craftsmanship or compensating our jewelers. Being just a small independent business, we take great pride in making all of our rings by the skilled hands of jewelers right here in the US.
Ethical
Diamonds
& gems

Lab-Grown
We specialize in ethical lab-created diamonds, sapphires, and moissanite you can't find elsewhere. Lab-grown stones have the same properties as mined stones, but without the environmental or humanitarian costs of mining. Diamonds and sapphires are grown in laboratories that recreate the same environment that causes stones to form in the earth, which means they're every bit as real - but with a smaller carbon footprint. All that differs between mined and lab-grown stones is their sustainability and their price.


Conflict-Free Mined
We do offer a small curated selection of mined diamonds and gems sourced only from our personally vetted US and Canadian-based vendors in accordance with the UN Kimberley Process, ensuring conflict-free diamond trading. All of our mined accent melee or small diamonds are of Canadian origin.

USA
Made
Recycled
Metals
Sustainable
Stones
Heirloom
Quality
Sustainble
Recycled
Metals
Gold mining is an extremely toxic process, producing some of the highest carbon emissions of the mining industry. The toxic waste produced by mining pollutes and damages groundwater, soil, and ecosystems, and displaces local communities.

To combat this environmental degradation, we instead choose to use recycled golds, silver, and platinum. Recycled metals are reclaimed from old jewelry or industrial parts and then professionally refined to the same exact molecular makeup as newly-mined metals. Your ring will be the same high-quality as newly-mined metals — but without the devastating destruction caused by mining.